JB's on the Beach
300 NE 21st Avenue
Deerfield Beach, Florida 33441
JBsontheBeach.com
954.571.5220


When looking for Deerfield Beach restaurants, look no further than JB's on the Beach! Sit on the patio and watch the warm waters of the aqua blue Atlantic Ocean lap the Deerfield Beach Pier, as the local Volleyball team plays a few games at the edge of the patio. The multi-level seating of JB's offers expansive panoramic views of what is happening on the sands of Deerfield Beach, thru the floor to ceiling glass windows. This large seafood restaurant and bar open to the ocean breezes turns it's patio into a hopping dance floor at night for the 30-50 year old crowd that comes to play in the warm sun and sand of Florida. The menu is matched perfectly to the setting, highlighted with wood grilled seafood, steaks and BBQ baby back ribs. This is a must experience casual seafood dining restaurant overlooking the Atlantic Ocean. Let the tropical breezes enhance your senses of the wonderfully flavored classic American cuisine on the shores of the Atlantic for a moderate price. Call today to reserve your table in paradise 954.571.5220

Lunch Menu
Weekend Lunch Menu
Dinner Menu
Wine Menu

Atmosphere: Inside Restaurant, Outside on the beach.
Dress Code: Classy Casual
Cuisine: American
Brunch: International cuisine
Delivery: No
Take-Out: Yes
Children's Menu: Yes
Outdoor Seating: Patio Dining
Boat Accessible: Yes
Pet Friendly: No
Location: Deerfield Beach with views of the pier
Price: $9 - $33
Website: JBsonthebeach.com
Phone: 954.571.5220
Hours of Operation: The kitchen is open from Monday to Thursday from 11AM to 10PM, while the bar stays open those days until 1am. Friday hours are 11AM - 2PM (again on the weekends we stop serving food at 11PM), and our bars are open until 2am. On Saturday and Sunday lunch service begins at 11:00AM and the kitchen doesn't close until 11PM.
Accepts Reservations: Yes, Recommended
Payment Options: Visa, MasterCard, American Express, and Discover. They also offer their own Gift Cards.
Executive Chef: Chef Ron Pollack
Offers: Classy Casual Dining, Exclusive Wine and Beer List, Entertainment, Inside Dining, Waterfront Dining, Private Dining, Great Entertainment, Gift Certificates
Parking:They have their our own valet service that is $3.00 per car ($5.00 on Saturday and Sunday). There are other parking options around the area. One is a small meter parking lot to the north of the restaurant, as well as around the corner and south. There is also a 4 story parking garage just south on AIA which one block away.
Catering: Yes, they also offer JB's On The Beach Private Dining & Exclusive Events! Click here for more information and to book a private event!
Contact: Sheryl Esquilin or Liz Urbano
Entertainment: JB's on the Beach offers amazing entertainment and live music bands. Live music on Wednesday – Saturday nights. Click here for a list of their upcoming Entertainment Schedule.
Happy Hour: No
We have a $15.00 corking fee. We offer a nice wine and drink list, but there is no BYOB other than wine we've uncorked.
Events at JB's on the Beach
JB's on the Beach provides all the best South Florida has to offer, beautiful beach views, cool tropical breezes, friendly service, warm ambiance and simply great food. JB's On The Beach offers Private Dining & Exclusive Events. Inquire about hosting your private dining event at JB's on the Beach. Chef Ron Pollack brings to you over 20 years of culinary talent, creating menus and events with the focus on elegance, international cuisine with an impeccable level of service. From corporate events to casual family reunions, JB's on the Beach can handle all of your catering needs.
JB's on the Beach offers you the best bands on their beachfront live music stage in Deerfield Beach. Click here for events at JB's on the Beach.

JB's on the Beach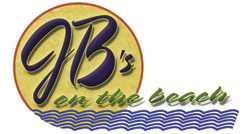 300 NE 21st Avenue
Deerfield Beach, Florida 33441
JBsonthebeach.com
954.571.5220


contact:
address: 300 NE 21st Avenue
address:
city: Deerfield Beach state: FL zip: 33441
phone: 954.571.5220url: jbsonthebeach.com