Green Wave Body Waxing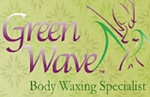 2 GREAT LOCATIONS
Boca Raton 561.367.7323
Weston 954.659.0033
Welcome To
GREEN WAVE
Body Waxing &
Laser Hair Removal
Green Wave Body Waxing is an exclusive Boca Raton and Weston waxing center were created to bring you the best Epilatory experience. With numerous years in this profession, this has enabled us to outrank our competitors and to exceed your expectations in customer service!
---
Check Out Our
Fantastic Summer Savings!




First Time Customers Only!


For Her:
FREE Upper lip or Underarms or...
Brazilian (Front & Back): $29.99
Full Bikini (Front & Back): $33.99

For Him:
FREE Underarms or Back & shoulders = $34.99



For Both: 25 % off On Any Service

Summer Savings for Existing Customers:
Get $10 off when you bring a friend!




** MUST PRESENT COUPON & PICTURE I.D.
NOT VALID WITH ANY OTHER OFFERS! **




SUMMER PROMOTIONS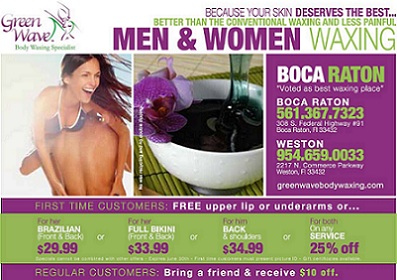 ---
Waxing
When you come into Green Wave you will experience a new concept in Waxing Body Hair Removal like no other. We do body waxing for men and women. Our Green herbal base wax and other products used during your waxing service are chosen with the utmost care and consideration for less painful waxing experience. Our products will leave your skin silky, soft and refreshed.
So say 'good-bye' to razor cuts, and depilatory creams that actually enhance the growth of your hair and harm your skin.
Green Wave Epilatory System is a natural lasting way to pamper your skin by removing unwanted hair from the root slowly reducing the growth of the hair.
Laser Hair Removal in Weston
Green Wave is committed to bring both women and men the alternatives in 'temporary' laser hair removal with our European Epilatory System and permanent hair removal with our state-of-the-art Laser Equipment. Let Green Wave be your first choice for South Florida and Boca Raton Laser Hair Removal. please note: Laser Hair Removal is only available at our Weston location. Boca Raton Laser Hair Removal coming soon!

Laser is the revolutionary permanent hair removal system which uses a light beam that is absorbed through the skin by the hair follicles. The laser beam is turned into the heat which destroys the hair follicles. With each treatment, less hair grows back ultimately resulting in your goal of permanent hair removal.

Our state-of-the-art laser equipment offers a unique cooling system which decreases the discomfort of the area being treated. Our laser treatments are safe, permanent and effective on all skin types, including dark skin and on almost any area of the body where smoother and younger hair-FREE skin is desired.

Our equipment operators are state licensed, registered and under the supervision of our in-house Medical Director. CALL US TODAY to schedule your FREE, no obligation personalized consultation.
Loyal Customers
Here a Green Wave we have created the Green Wave Loyalty Program, tailored to reward you for your continued patronage. This is our way of saying thank you for voting Green Wave the best waxing center three years in a row.

With your Green Wave Loyalty Card you will enjoy the following amazing benefits: • Points awarded every time you buy Green Wave gift certificates and products.

• Points awarded every time you use our waxing services. • Points awarded for all your referrals. • Points awarded every time you make your online appointments at: GreenWaveBodyWaxing.com • Points are redeemable for waxing services (excluding Laser)
Packages
Create your own personalized packages and save when you purchase in advance.

• Buy 6 get 1 FREE
• Buy 9 get 2 FREE
• Buy 12 get 3 FREE
First Time Customers
Green Wave Body Waxing wants to reward you from your first time visit with us. Select from one of these amazing offers below:

• Free Regular Bikini or
• $25 Back and Shoulders
• Save 25%-30% on all waxing services Every Visit!
• Gift Certificates Available.
Because Your Skin Deserves The Best!
contact:
address: Royal Palm Place
address: 308 S. Federal Highway #91
city: Boca Raton state: FL zip: 33432
phone: 561.367.7323email: Info@GreenWaveBodyWaxing.com
url: GreenWaveBodyWaxing.com